Hammer Crusher Promotes the Development of Mechanical Sand
Currently, the domestic market has an increasing demand driven by many construction projects, the scenario that natural sand dominates the market doesn't exist, but artificial sand is dominating the market with its low price and the unique advantage. Mining industry experts predict that high-speed development of mechanical sand will become a mainstream of gravel market in the future.
Hammer crusher
plays an important role in sand making production line, therefore, the prosperity of gravel market has also accelerated the rapid development of hammer crusher industry.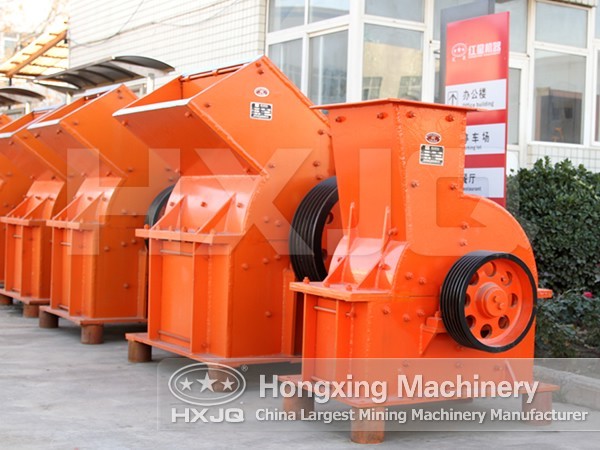 In sand making production line, the equipment mainly consists of
vibrating feeder
, hammer crusher, vibrating screen,
sand maker
and tape transport equipment. The operating principle of hammer crusher is that the motor drives the rotor with high-speed rotation in the crushing chamber. Materials are given from the upper mouth into the machine and go through the process of hitting, impacting, shearing and grinding to become smashed. It has obvious advantages to use hammer crusher in processing artificial aggregates, such as uniform finished particle sizes, natural particle shapes, strong and stable materials. Therefore, construction and engineering industries which are consistent with the material specifications are more inclined to purchase hammer crusher to process sand and gravel. In addition, with the rising housing prices and serious social problems, affordable housing construction has been highlighted to a higher level of government affairs, which is also a widely concerned topic in society.The demand of large quantity of construction aggregates has become the best-known opportunities, and the market of hammer crusher was further expanded. Hammer Crusher of Hongxing Machinery is high-tech, of which high-chromium alloy hammer makes the usage of facilities five times longer than normal products. Hongxing Machinery, who has accumulated a good reputation and credibility through many years' development, is trustworthy in the
crushing equipment
market. Hongxing Machinery is a reliable brand which has a number of successful cases in sand making production line in China.
Prev Article: Key Features and Development Modes of Electromagnetic Vibrating Feeder
Next Article: Hongxing Sand Washer is Developing Continuously