Mobile Crushing Plant/ Mobile Stone Crusher Machine
The mobile stone crusher plant , which is also known as the mobile crushing plant is a kind of mobile rock crushing operation. It can be regarded as a simple stone production line and it is widely used in railway, highway, construction, water conservancy, metallurgy and other industries.
Feature and Advantages of Mobile Crushing Plant
1, it is equipped with the crushers with high performance, which helps the high efficiency of the mobile mining plant;
2, the integration of the feeder machine and screening equipment guarantees the quality of mobile crusher plant;
3, the integrated vehicle installation of belt conveyor , screening equipment and crushers;
4, the steering traction axis of the mobile quarry plant facilitates the road transportation;
5, the vehicle of installation support makes it convenient and efficient to station in the site;
6, the integration of vehicle motor and control box enables it more effective.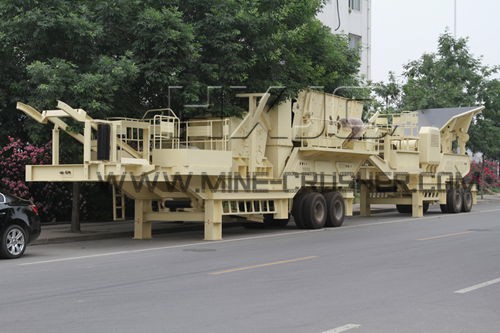 Application Range of Mobile Stone Crusher Machine
(1) The mobile stone crusher machine is widely used in mining, coal, earth and stone works, urban infrastructure, roads or construction sites and site operations as well as the recycling of the construction waste.
(2) It can be used for the processing of topsoil and a variety of other materials; separation of viscous concrete aggregate and the quarrying industries.
(3) It can be also used for the sand making by processing the river pebbles, rocks (limestone, granite, basalt, diabase), ore tailings and stone chips.
The portable mining equipment can form the coarse and fine crushing stages according to the actual demand and three-stage crushing system (coarse, medium and fine crushing). It also can run independently, which has large flexibility.
Prev Article: Screw Washing Machine
Next Article: Limestone Crusher/Limestone Machinery