What are Performance Features of High Pressure Suspension Roll Mill?
A few years ago, we suffered from global financial crisis, but as for the machinery manufacturing industry of our country, we have more opportunities behind the crisis. In recent years, the machinery manufacturing industry such as automobile and ship is constantly developing and expanding to overseas market and the total annual value of the import and export trade of the machinery industry is also increasing, which promotes the fast development of powder grinding equipment industry. Here Hongxing Machinery will give a brief introduction to the performance features of high pressure suspension mill.
The development of machinery manufacturing industry always relies on the supply of construction materials, which shows the great importance of the powder grinding equipment industry. We need to extract and process natural ores or construction waste into the materials suitable for machinery production, which is just the function of powder grinding mill. High pressure suspension mill is the main product newly researched and developed by Hongxing Machinery. It is a product manufactured with the latest science and technology to satisfy the huge market demands in the machinery manufacturing industry and answer to the call of low carbon and energy conservancy and it has become the most advanced powder grinding mill in domestic market with the energy-saving and environmentally friendly standard.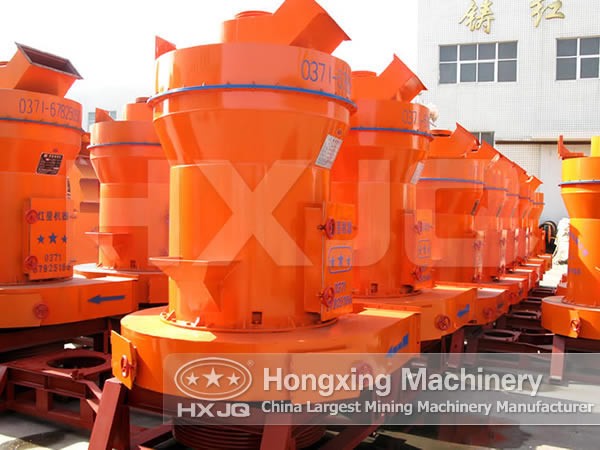 The specific performance features of this product are as follows:
1. High pressure is exerted in traditional grinding cabin, which further improves the fineness of the discharged materials, and the production efficiency is also greatly improved.
2. It has stronger adaptability and is suitable for more materials.
3. It has low carbon and is environmentally friendly, and conforms to the stipulation of the National Environment Protection Agency.
4. This product has excellent sealing as the adopted new processing technology make the whole machine in a sealed environment, thus extending the service life of the equipment.
5. Los using cost. The original quick-wear parts are made of new materials, which prolongs the service life of the parts and reduces the using cost of the customers.
6. There is spring in the quick-wear grinding roll and grinding ring, which makes them maintain stable grinding pressure, thus improving the running stability of the equipment.
Prev Article: Fastener Industry Speeds up Adjustment and Develops towards High-end
Next Article: Why is Highly Efficient Sand Maker So Popular?