The Application of Sand Making Equipment in Sand Aggregate
Sand making equipment is the machine used for making sand with rocks. After being processed by sand maker, the materials can be directly used in the market. Hongxing sand making machine adopts the technology of stone impacting stone and iron impacting stone, which greatly reduces the abrasion of the materials on the equipment and effectively extends the service life of the wear-resisting spare parts. The new type of sand maker manufactured by Hongxing Machinery has high crushing ratio, and the granularity of the final products can be freely adjusted, so that the needed crushing ratio can be conveniently adjusted.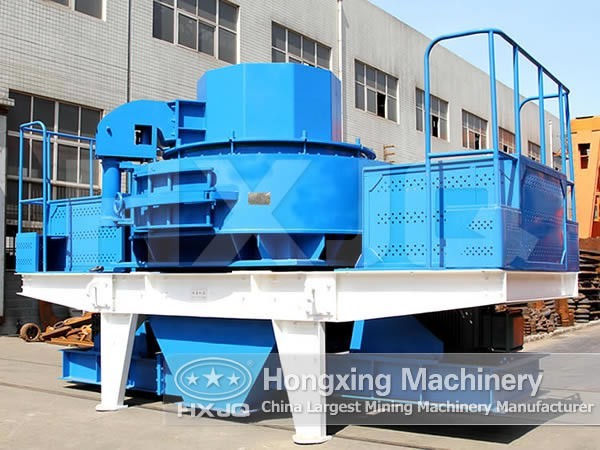 The sand aggregate resources in Shandong Province are dominated by river cobbles. The sand maker manufactured by Hongxing Machinery is designated by the sand making industry as the indispensible production equipment of sand aggregates with its unique performance and excellent granularity of the final products. The sand and stone manufactured by the sand making machine is mainly used for road paving and construction. According to its unique design technology, this machine not only can reduce the feeding granularity of the ores and realize more crushing and less grinding, but can improve the production capacity of the grinding mill and save electricity and steel, thus greatly improving the economic benefits of the ore beneficiation plants.
Energetically popularizing sand making equipment can curb the illegal sand quarrying to some degree as illegal sand quarrying influences flood control safety, engineering facilities safety, river regime steadiness and ship navigation safety and damage the environment. Using sand making machine is not only legal, but supported by the government, and makes a contribution to the society.
Prev Article: Why is Highly Efficient Sand Maker So Popular?
Next Article: What Should You Note When Running Roll Crusher?