The uniqueness Owned by Hongxing Crawler-type Mobile Jaw Crusher
Crawler-type mobile jaw crusher is a highly efficiency machine used for construction waste disposal. Other than the advantages of common mobile crusher, this mobile jaw crusher machine adopts self-driving method and realizes the customers' needs for advanced technology and comprehensive functions. As the features of flexibility, convenience and mobility enjoy popular support, here Hongxing Machinery will share with everyone the uniqueness owned by Hongxing crawler-type mobile jaw crushers: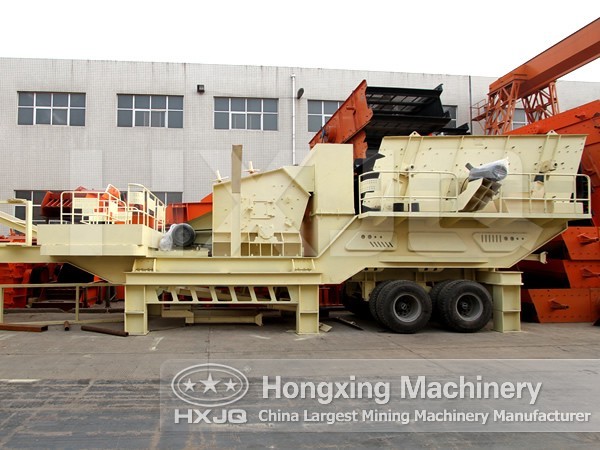 (1) Crawler-type mobile jaw crusher adopts full-hydraulic driving device which can provide reliable, economic and environmentally friendly power source, making it the back-up guarantee of normal work of this mobile crushing station.
(2) Besides the feature that crawler-type mobile jaw crusher can move along the quarrying section of the raw materials, it adopts American dynamo, so that Hongxing crawler-type mobile jaw crusher reaches a perfect combination of high working reliability and machine power and fuel efficiency.
(3) It adopts German hydraulic pump and is equipped with the interchangeable system of crushing and sand making, so that only this machine can realize multiple functions of crushing, recycling and sand making of construction waste.
(4) Crawler-type jaw crusher is equipped with perfect noise reduction and dust collection system, thus controlling the noises in the construction site and improving the air quality.
(5) All the spare parts of the MP1000 crawler-type mobile jaw crusher produced by Hongxing Machinery adopts products of famous manufacturers, and such spare parts increase the wear-resisting property of the machine and extending the service life of the crushing station.
Prev Article: The Application of While Cast Iron in Ball Mills
Next Article: How Can Get the Optimal Running Speed of Ball Mill?