Five Common Problems and Related Solutions of Compound Crusher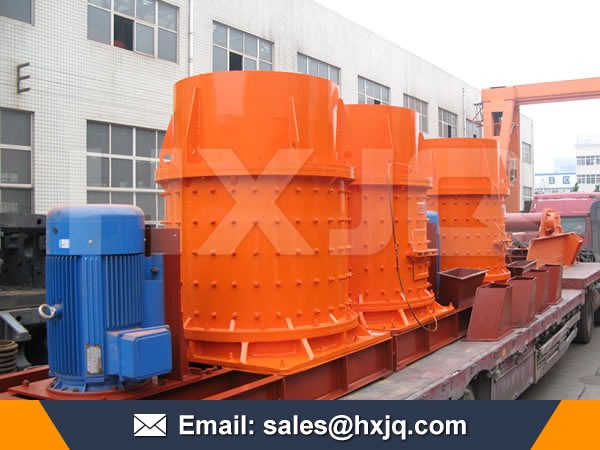 Compound crusher is the commonly used crushing equipment in crushing production line and sand production line. It is developed on the basis of comprehensive domestic and foreign technology with the optimized technical parameters. Compound crusher is suitable for the coarse grinding of medium hard ores, which has advantages of large crushing ratio, low energy consumption, stable operation, simple structure and convenient repair. However, in the production process of compound crusher, we often encounter the following problems:
1. The granularity problem. In the discharging process of the materials, if the particle is too large, it should firstly by adjusting the front and rear impact rack clearance or replace the wear lining plate and the plate hammer which are seriously damaged; moreover, adjust the back rack position, so that both sides and the frame lining can have relatively reasonable gap to ensure the discharge granularity of materials.
2. The bearing fault. Because compound crusher is working in bad conditions such as large impact load, strong vibration, high rotating speed and much dust. These conditions have exacerbated by the wear of the rotor bearing, thus affecting the smooth production of the crusher.
3. Belt failure. There are many reasons for the combustion of transmission belt, for example, if the crusher is in continuous operation for a long time, it will result in wear and heat, and even burning of the belt; belt tightness is not enough, frictional heating and burning; overload plugging material, the belt slipping friction and combustion. First of all, regularly inspect the belt, if it is found that the belt is loose, adjust the tightness of the belt and the screw; secondly, increase the ventilation of the equipment to improve the cooling of the belt and motor.
4. Sound fault. During the operation of compound crusher, if the crushing cavity inside has very violent percussion sound. First of all, immediately shut down the power of the crushing machine, stop and clean the crushing chamber; secondly, the machine will generate great vibration in the operation process, check whether there is something in the crushing cavity which cannot be crushed; then check the gap between the fastening between the hammer and liner, finally confirm whether the wear-resisting lining board is off.
5. Hammerhead fault. The head is the wear part of compound crusher, after a certain time of working, its working surface will damage, thus the surface shape will be changed. At this time, the gap between the hammer and lining board (usually below 10mm) will increase; the friction between each other will be reduced greatly, which is the main failure forms of hammer wear. While the damage is inevitable, we can only extend its service life as far as possible.
Prev Article: The Technological Transformation Problems of Slag Dryer
Next Article: Hongxing Rotary Kiln Has Different Process and Value