The Technological Transformation Problems of Slag Dryer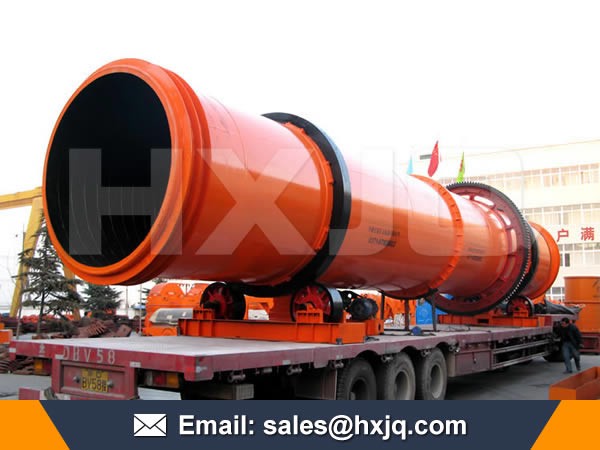 In recent years, a large number of new dry cement clinker production line has been built in China, however, the majority of cement companies focus on the optimization and energy saving of the grinding equipment with little investment to the system. Even some companies do not fully take the drying process into account, so that the drying process is backward, because the equipment selection is unreasonable, it has become the bottleneck of the production line. According to the need of the market, Hongxing Machinery has developed the latest slag dryer with high efficiency, which the flow process instead of counter current extraction. Flow process means that the materials and hot air flow in the drying machine is consistent, countercurrent process refers to the material and the hot air in the drying machine in the opposite direction. Countercurrent process has the advantages of simple operation, low dust concentration, but it seriously restricts the materials, especially influence the normal production of slag dryer. The technological transformation of high efficiency and energy saving slag drying machine should pay attention to the following questions:
Firstly, pay attention to the selection of precipitator air amount. The dust ventilation effect directly affects the production capacity of drying machine; the high yield requirement must select the dust collector with large air amount. We must ensure that the dryer has a certain negative pressure, which can timely absorb the high temperature gas generated by the boiling furnace into the drying machine. So that the heat exchange will occur rapidly and being discharged in time, which can reduce the exhaust gas temperature of the drying machine as far as possible, so as to achieve the purpose of rapid drying. The type and exhaust air volume size of the drying machine should be selected according to the material specifications, types and sizes. A detailed calculation and reasonable selection are necessary, thus the drying machine will have high output and internal resistance. The dust collectors in the past are generally small, which can produce up to two times of the normal dryer capacity.
In addition, pay attention to the balance of the wind, fire and material. Whether the drying machine can have high yield, the key is to achieve the 'wind, fire, material balance'. First of all, determine the ventilation of dust remover and the specifications of the drying machine, and then determine whether the high boiling heating furnace size is appropriate. Secondly, strengthen the operation: feeding should be uniform; water wave cannot be too large; the heat source temperature should be adjusted in time; the temperature of the exhaust and furnace should be stable. The ventilation and dust removal should ensure whether the air volume and air pressure are normal. Only by doing these points can we achieve high yield and low consumption.
Prev Article: Jaw Crusher is Best for the Coarse Crushing of High Hardness Ore
Next Article: Five Common Problems and Related Solutions of Compound Crusher