teeth roll crusher
The roll crusher is also known as double roll crusher, which has more than two hundred years of history of the development. It is not only widely used in cement, metallurgy, chemical, electric power, coal and other industries to process brittle and ductile materials, but also used to medium crush and fine crush ores and stones whose hardness is below medium hardness in ore beneficiation, chemical industries, cement, building materials and other industries.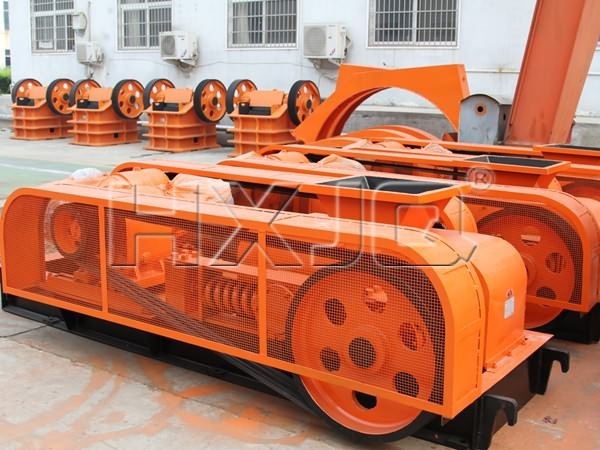 The roller crusher has the advantages of reasonable structure, well-made production, high productive volume, low energy consumption, convenient operation, less over powder crushing and breaking wet or viscous materials. The double roll crusher is suitable for crushing all kinds of materials with medium or low hardness, and its compressive strength is generally less 700kg/cm². The production capacity, heavy weight and low ability to crush large-sized materials make it unsuitable for the roll crusher to crusher hard materials. But in the chemical industry, coal and coking industry, they are strict with the size and shape of crushed products and over crushed phenomenon, therefore the roll crusher must be chosen. The machine should be installed horizontally on a concrete foundation and anchored firmly. In order to reduce vibration and noise, it's better to put hard wood or other cushioning materials on the foundation of concrete.
The roll crusher is generally made up of the cover, box, roll, drive mechanism, the gap adjustment mechanism, a spring-loaded mechanism and stand parts. The main working parts are the two parallel rolls. Materials going into the crushing chamber and was crushed by rollers, and then going into the receiving hopper through the gap between the two rollers. Adjusting the gap size can change the granularity of discharging materials. Smooth rolls can not only crush the materials, but also grind them. According to the size of the roll, the size of the feed inlet, feed size, the nesting size and different efficiency, the roller crusher can be pided into different types, but their work principles and basic structures are basically same.
Prev Article: Stone Production Line
Next Article: gyratory cone crusher