gyratory cone crusher
The cone crusher is mainly used for crushing hard and medium hard ore and rock, such as iron ore, copper ore, limestone, quartz, granite, sandstone and so on, therefore it is widely used in metallurgical industry, construction industry, road building industry, chemical industry and the phosphate industry. The gyratory cone crusher is a type of cone crusher, which is mainly used for medium crushing and fine crushing of the various minerals and rocks whose compressive strength is no more than 300MPa. This crusher has characteristics of strong crushing force, high production efficiency, easy adjustment, energy saving and low operating costs.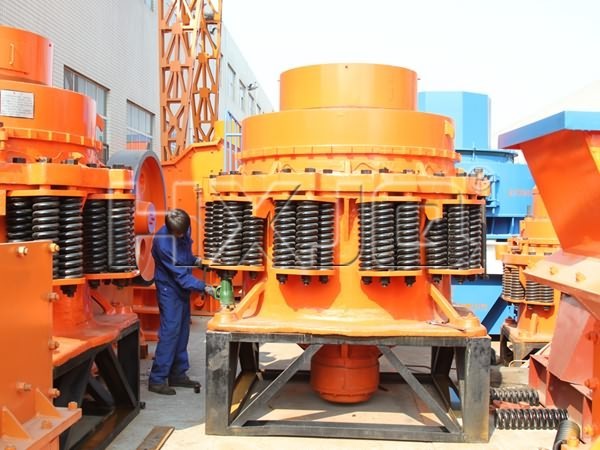 Breaking is a basic procedure during the preparation of raw materials and processing work, and its purpose is to control the particle size of the raw material to achieve the requirements of blast furnace smelting. Its structure mainly consists of frame, horizontal axis, moving cone, balance wheel, eccentric sleeve, the upper breaking wall (fixed cone), the lower crushing wall (dynamic cone), fluid couplings, lubrication system, hydraulic system and control system.
The gyratory cone crusher is mostly used for iron ore crushing operations, and its maximum feeding size is 1000mm. it is a continuously working cone breaker. The gyratory cone crusher and large jaw crusher are all used for iron ore crushing operations, but compared with jaw crusher, the main advantages of cone crusher are relatively more stable work, lighter vibration, higher yield, less energy consumption, neater product appearance, and less powder ore. Disadvantages include the complex structure of the cone crusher, inconvenience maintenance, the high height and heavy weight of the device itself, troublesome adjustment of the discharging port. Therefore, in practical work, the choice of crushers should depend on the actual requirements of users.
Prev Article: teeth roll crusher
Next Article: mobile construction station