The Spiral Chute
The usage of the device:
The device is suitable for sorting size 0.3 - 0.02 mm fines iron ore, ilmenite, chromite, pyrite, zircon, rutile, monazite, phosphorus B ore, tungsten ore, tin, tantalum ore, niobium ore as well as the differences in the proportion of other non-ferrous metals, rare metals and non-metallic mineral body.
The Structure:
The Spiral chute mainly consists of the mine uniform, the cross (Tripod), mine shafts, helical groove, the interception of slots, gathering bucket and groove pillar.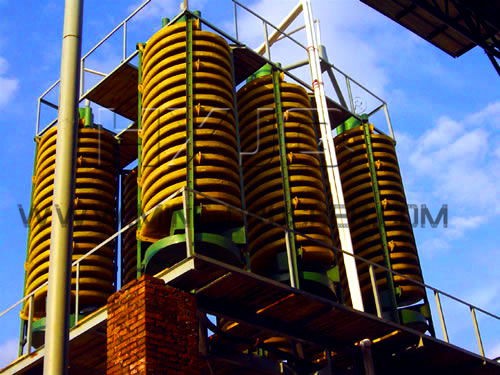 The using methods and principles:
Spiral chute is erected. Calibrate the vertical line and fix it with a metal frame in the right position. The sand pump ore is sent to the to the top two feed mouth through the sand pump, adding additional water and regulating the ore paddle concentration. The ore paddle flours out naturally. When they flour out, they are affected by the slope of the flow rate of rotation and the difference of the proportion of the ores, particle size, shape, the sand and the ore are separated under the gravity and centrifugal force of the swirling flow. The concentrates flour into the concentrate bucket, and then they are picked out by the pipes. And the tailings flow into the tailings bucket and then flour into the sand pool by the pipes. And at last, they are driven away by the sand pump. Then the the whole process of beneficiation is finished.
The Features:
The product has a reasonable structure, simple to install, easy to operate, processing, clear sub-ore processing capacity, high efficiency beneficiation enrichment ratio, high recovery rate, reliable operation, a light weight, moisture, rust, corrosion resistance, adaptability, particle size, grade, no noise, etc..
Prev Article: Roller dryer/Drum dryer
Next Article: The Factors That Affect the Efficiency of The Ball Mill