The Spiral Classifier/ The Classifier/ The Rotary Classifier
The spiral classifier is referred to as classifier. Classifier mainly has high weir single and double helices, the sinking of the single and double helices.
The Structure:
Classifier is formed by the gear, the spirochetes, tank, lifting mechanism, the lower bearing (bearing) and volleyball mine valve.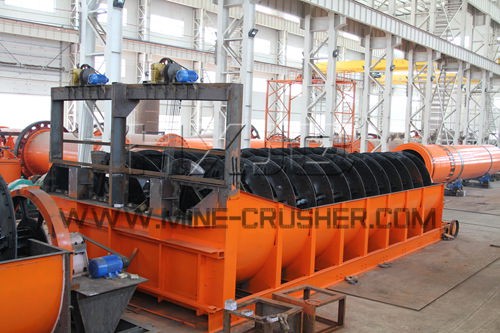 Working Principle:
Based on the different sizes of solid particles and different specific gravity, Spiral classifier works. And the mineral particles float out of the water, while the coarse mineral particles sink to bottom. This is a kind of the spiral device which discharges to the upper. It can filter the material powder. Then the coarse material will be put into the feed by the spiral piece. And the finished fine material will be discharged. The machine base is made of channel steel and the body is made of welded steel plate. The head, shaft of the spiral axis is made wear-resistant and durable, and the enhance device is classified electric and manual.
The Features:
1. It is used for the excessive powder separation. It can be very convenient to control mechanisms gravel powder content, and meet the user's requirements;
2. It is suitable for dry, medium-sized sand production line;
3. The 0.00 - 0 .75 mm dust content in the range of 2% -15% is adjustable;
4. The powder quality is easy to control and the fineness adjustment is convenient, flexible and reliable;
5. The repair rate is very low;
6. It adopts the use of variable frequency control technology, and the operation is more concise.
Prev Article: Revolving Screen/ Rotary Screen
Next Article: Concrete Crusher/Concrete Crushing Machine