Hongxing Wins a Place in Mining Industry with its Powerful Strength
After long-term development, Henan Hongxing Mining Machinery Co., Ltd. has developed into a scientific and technological enterprise which specializes in the research, development and production of engineering technology referring to crusher, construction waste processing equipment and mobile crushing station. These products, including jaw crusher, cone crusher, impact crusher, vertical crusher (sand maker) and construction waste processing equipment, manufactured by Hongxing Machinery have very high technical value.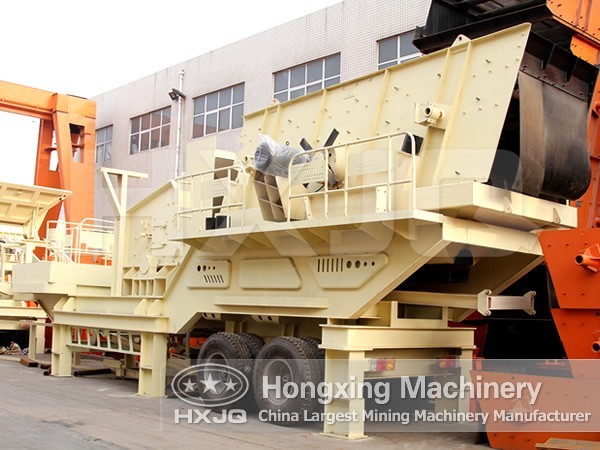 In the development process of Hongxing Machinery, it follows the latest international developmental trend, constantly adheres to scientific and technological innovation, always stands in the forefront of science and technology and develops mining crusher and mobile crushing station as two pillar products in our company. Mobile crushing station is a kind of high efficiency crushing machine with its automatic driving method, advanced technology and complete functions. In any terrain conditions, this device can reach anywhere so that we can reduce material processing operations. And it is convenient to coordinate all auxiliary machinery equipment. Through wireless remote control, it is very easy to drive crusher to trailer and ship it to the work site. Because it saves the assembly time, the equipment can immediately go to work as soon as it arrives to the work site. The jaw type mobile crushing station has the advantages of big crushing ratio, high efficiency and even particle size. And its optimization design can meet the technology demand of crusher. It wins the favor of customers in the process of operation.
Innovation is the unremitting power for the development of Hongxing Machinery. As a domestic well-known enterprise producing crushing and screen machines, Hongxing Machinery has cooperated with Hazemag, Germany, and with the advanced idea, mature theory, excellent technology and rigorous process, our company quickly occupies the high-end market of crushing and screen machine and further improves the level of research and development, enriches the product lines, enhances the technology management and control and improves the service level.
Prev Article: How to Determine Length-Diameter Ratio of Ceramsite Kiln
Next Article: The Importance of Hongxing Crusher in the Production of Sand Aggregate