The Advantages of Hydraulic Safety Device of Cone Crusher
The spring safety device of cone crusher is not perfect in the practical production and easy to cause the bearing fracture and other major accidents. In addition, it is not convenient to regulate the discharging mouth, so the hydraulic cone crusher is widely used at abroad because of its timely and reliable performance. Besides, it can drive the uncrushable things like iron bulks away automatically. The hydraulic system has three functions: to support the cone crusher, to regulate the discharging mouth and to realize the overload protection. It takes the hydraulic cone crusher only one minute to regulate the discharging mouth and drive the uncrushable things away automatically, from which we can find that it is more advanced than the spring cone crusher.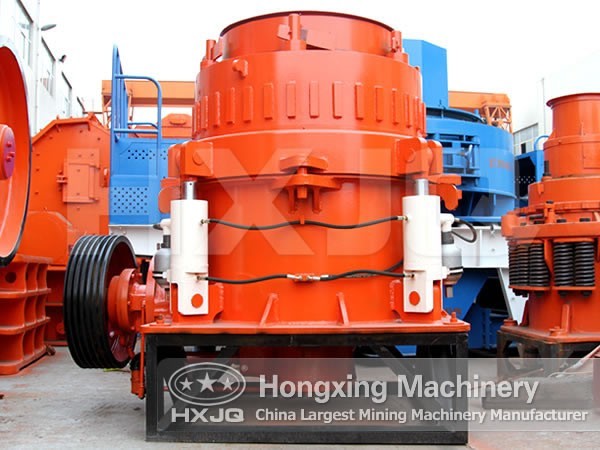 The oil cylinder that realizes the hydraulic safety device is equipped in the connecting rod body. Before the crusher is started, we should start the hydraulic oil cylinder first to add oil to it and make sure the oil pressure less than 200kg/cm2. Then start the main motor, and the crusher begins to work normally. When the uncrushable things enter into the crushing chamber, which makes the oil pressure higher than the required level and forces the high pressure overflow waves to open, the oil in the bottom will flow to the head to reduce some pressure. Then the lower part of connecting rod, thrust plate and the movable jaw will stop functioning, while the main motor, eccentric shaft and the upper part of the connection rod keeps the normal operation, which protects the machine from being damaged. At this time we could stop the machine and get the uncrushable materials out, and then start the machine again.
The hydraulic safety device has the following advantages: compact structure, reliable functioning, automatic discharging of the uncrushable materials and restoration of the movable jaw and smaller stress (often 10%, while 30% for the spring one). All these advantages broaden the application of the hydraulic cone crusher and they are also the development trends.
Prev Article: How Does the Crusher Deal With Construction Waste?
Next Article: The Deviation of Belt Conveyor and Its Treatment