The Structure of Hongxing Belt Conveyor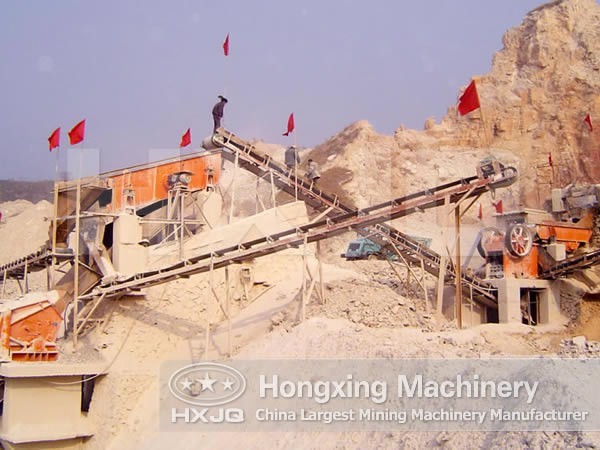 Belt conveyor is also known as the conveyor belt, which is widely used in home appliances, electronics, electrical appliances, machinery, tobacco, injection molding, post and telecommunications, printing, food and other industries. It is used for assembling, debugging, testing, packaging, transportation, etc. Its main components are as follows:
1.The belt. For belt conveyor, the belt is both the bearing part and the traction structure, which not only needs enough strength, but also has considerable flexibility. The conveying belt is composed of a core body and a cover layer, and the core body is under tension. The layer protects the core body from damage and corrosion.
2. Roller and bracket. The roller is for supporting belt, the belt sag does not exceed the technical requirements. In order to ensure the smooth operation of the belt, the roller is installed on the machine frame, and the tape is laying on the roller to reduce the running resistance. The roller is arranged in the rolling bearing. The roller has deveral types such as the trough roller, flat roller, cushion roller and self-aligning roller.
3. The transmission device. It is to transfer the motor torque to the belt for its continuous movement. It consists of motor, reducer, coupling transmission roller, etc. As the increasing transport capacity of the conveyor, the transport distance will become longer, and the motor power will increase. The multi motor drive is gradually increasing.
4. The tensioning device. It ensures the enough tension of the belt to generate the necessary friction force between the drum and belt, limit the sag between each brackets, so that the conveyor can work normally. The commonly used three tensioning methods are mechanical tension type, weight tension type and hydraulic tension type.
5.The cleaning device. When the belt conveyor is running, cleaning the dirt on the belt, drum and roller is very important, because the dirt can cause the deviation of the belt and the wear of its rotating parts, which is usually behind the unloading roller. Clean the dirty surface of the scraper, or install the rotary brush on the bottom of the drum for cleaning the belt.
Hongxing Machinery is a professional manufacturer of belt conveyor, the conveyor belt produced by Hongxing Machinery has high quality, reasonable prices and considerate after-sales service. If you are interested, please leave us a message or send emails to sales@hxjq.com
Prev Article: The Rapid Development and Cleaning Problems of Spiral Conveyor
Next Article: Classifier Makes Great Contributions to the Ecological Balance