Sand Production Line is Suitable for Producing Construction Aggregates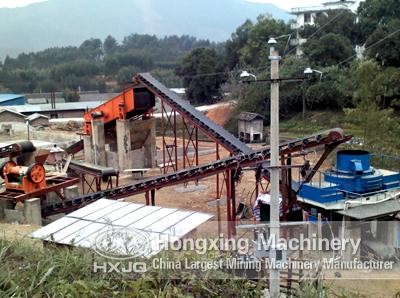 Sand production line is the advanced production line which produces construction aggregates in large projects such as the Three Gorges Project. It has dynamic economic indicators of the modernization level with the excellent artificially sand processing equipment. Hongxing sand production line has low production costs. The great potential for economic development is the necessary production line for senior building aggregates.
During the regulation of sand production line, it has achieved the dynamic balance of production and supply, which is the fundamental purpose for the design of artificial sand production line. Hongxing sand production system is currently the recommended product of Chinese Gravel Association, so the replacement of natural sand is around the corner, we will form a new investment in the hot spot. The production line of sand making machine with deep cavity of the rotor system is improved, which greatly enhances centrifugal acceleration of the material, and its particle shape has been greatly improved. In order to enhance the long-term stable operation of sand making machine, the combined impact block and the conversion type waterfall down manner between the dual function is energy saving and environmental protection.
As the sand production line manufacturer, Hongxing Machinery is successful in the installation and debugging of thousands of production lines. The sand production line developed by our company has stable and reliable performance. In addition, the professional and thoughtful customer service is our unique company culture in domestic mining industry. Because we are professional, so more focused on our products, choosing Hongxing Machinery is to select a successful start of your benefits. More sand equipment information of dry mechanical sand production line or quartz sand making machine prices, please contact us!
Prev Article: Three Discharging Methods of Drying Machine
Next Article: Jaw Crusher is Best for the Coarse Crushing of High Hardness Ore