Jaw Crusher is Best for the Coarse Crushing of High Hardness Ore
For the crushing of ores, the raw materials main have high hardness such as river gravel, granite and basalt. Due to their physical characteristics, hard ores are often applied to the building stone and artificial sand production. These materials have different limestone and silicon content, which are not easy to be broken and they will cause serious wear to the ordinary pulverization equipment. Because of the economic development, each big manufacturer actively improves the crushing equipment to meet the processing of hard rocks, so as to make the equipment working for a long time.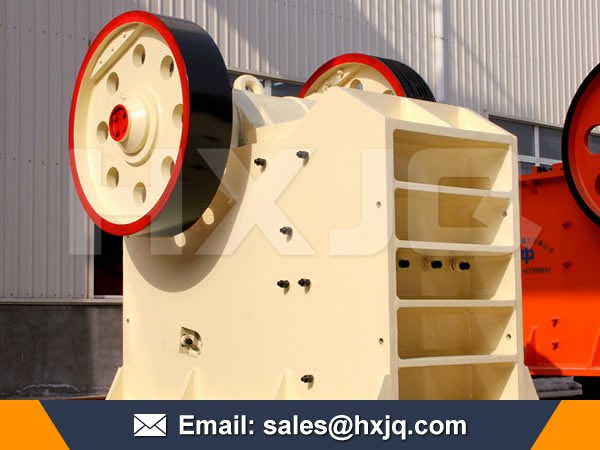 Jaw crusher is the best choice for the crushing of high hardness ore, and the most prominent advantage is the high crushing rate, which can be described as 'one size fits all'. The power design of the equipment makes the material be repeatedly crushed, thus improves the crushing performance of jaw crusher. The working of jaw crusher has already begun from the top of the crushing chamber; the discharge port is arranged into the minimum size to improve the crushing ratio. In addition, the design of lining plate angle makes the stroke of the material greater at the bottom of the crushing cavity to promote the passing ability of the materials. What's more, the adjustment device of jaw crusher can be used to adjust the size of the exhaust outlet, and there are two adjustment methods: the wedge lifting type and the top rod shim, both of which are convenient and flexible to realize the intelligent adjustment.
Hongxing jaw crusher has been recognized in the market with its high efficiency, wear-resistant plate and high crushing ratio. It can achieve multiple crushing of the materials by extrusion, pressing, rubbing, grinding and other methods, which is the champion in the stone crushing and aggregates production industry. Jaw crusher has become the preferred equipment for customers with high hardness and strong corrosion of materials. For the rough and fine crushing of iron ore, non-ferrous metal ore, marble, quartz stone, granite, limestone, basalt, pebbles, feldspar, dolomite, calcite, lump ore and other rocks, jaw crusher has solved a lot of problems for customers, which has promoted the stone crushing industry into a better development period.
Prev Article: Sand Production Line is Suitable for Producing Construction Aggregates
Next Article: The Technological Transformation Problems of Slag Dryer