What Affect the Working Efficiency of Spiral Classifier?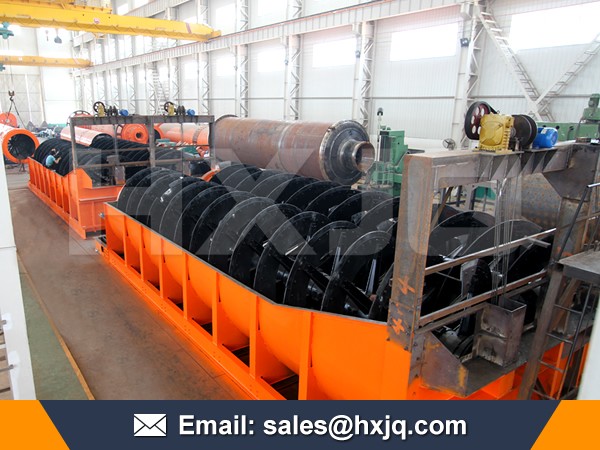 Spiral classifier is widely used in the concentrator or gravity concentrator for sorting ore and fine mud, analyzing particle size of pulp in metal ore dressing, and removing mud, water in ore washing operations. Spiral classifier has become popular for its wide usage, convenient control of mineral content, easy operation and low risk. When the spiral classifier is working, its working efficiency can't be improved because of the existence of some affecting factors, so that, in order to improve the efficiency of the machine, Hongxing Machinery has put forwarded the following factors, and we hope that you can have a very clear understanding of this issue.
The first is the powder size, if the powder size is relatively small, the classification can be more difficult, because small powder is more difficult to be separated. Then it is about the water content, if there is too much water in the machine, it will result in high viscosity of the powder, if the viscosity is too big, the powder attraction will be greater, so it will make the powder classification more difficult. Therefore, it needs great attention, so as to make the machine longer service life.
Then it is about powder species in the machine, if are not too much kinds of materials, it will make the grading work difficult to complete. Too much powder will make the grading work more arduous, because there are so many powder needed during the classification, and the friction between the powder is great, it creates more grading difficulties, so this kind of factors will greatly reduce the working efficiency of the classifier. So when using the spiral classifier, you must pay attention to these questions, don't let them affect your profit.
Hongxing Machinery is experienced in the production of spiral classifiers, and we have high quality spiral classifier for sale, in addition to spiral classifier, we also have sand classifier. If you are interested, please contact us!
Prev Article: Hongxing Sand Maker ‎Ushers in New Opportunities
Next Article: The Repair and Maintenance Tips of Hydraulic Cone Crusher