The Repair and Maintenance Tips of Hydraulic Cone Crusher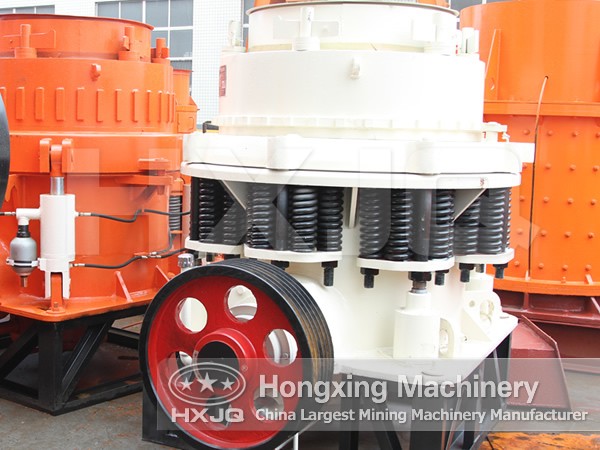 Hydraulic cone crusher is applicable for iron ore, copper ore, limestone, quartz, granite, sandstone and other medium hard or hard materials in metallurgy industry, mining industry, building materials industry and chemical industry. Hydraulic cone crusher has big crushing ratio, high efficiency, low energy consumption and uniform product size, which is suitable for medium and fine crushing of various ores and rocks. When the hydraulic cone crusher is broke down, the inappropriate maintenance management is the main reason for its failure is improper. The appropriate use and careful maintenance of the hydraulic cone crusher can prevent the wear and unnecessary damage of the parts, so as to prolong the service life of the equipment. Strengthening the daily maintenance of hydraulic equipment is the main method to prevent the failure of hydraulic equipment. The on duty operator is in charge of it, each group for one time, and their working responsibilities are as follows:
(1) Check the volume of oil in the oil tank.
(2) Check the working pressure to make sure the pressure gauge pointer has no beating (in order to protect the pressure meter, the switch of pressure gauge should be turned off in addition to checking the pressure).
(3) Check the vibration and noise of the hydraulic pump as well as the pressure control valve (mainly the relief valve).
(4) Check the temperature of the oil and hydraulic pump shell. The oil temperature should be controlled at 40 ± 5 ℃; the temperature of hydraulic pump shell should be 5-10 ℃higher than the oil temperature.
(5) Check the oil leaking conditions of the fuel tank, pump, valve, hydraulic cylinder, pipe fittings and the connected part of the pressure gauge.
(6) Check the movement of hydraulic cylinder.
(7) Check the temperature of magnetic valve and magnetic plug.
(8) Remove the oil stain and dust of the fuel tank, hydraulic components, moving parts and the cover.
Hongxing Machinery is one of the professional hydraulic cone crusher manufacturers in China. In addition to hydraulic cone crusher, we also produce small cone crusher, rock cone crusher and spring cone crusher. Hongxing hydraulic cone crusher has reasonable price, reliable performance and simple operation. Welcome to contact us!
Prev Article: What Affect the Working Efficiency of Spiral Classifier?
Next Article: Rotary Kiln is the Leader in Environmental Protection Industry