How to Select the Bearing of Roll Crusher?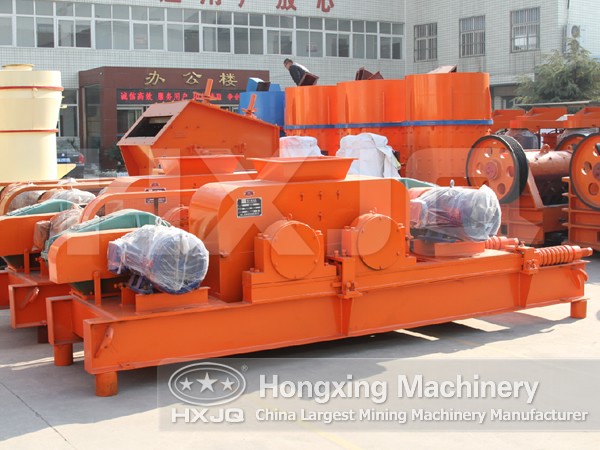 Bearing is very important to roll crusher, the selection of the bearing needs to be very careful. As the domestic mining machinery manufacturer, Hongxing Machinery has proposed several suggestions about the selection of roller crusher bearing, which can be a reference when customers are purchasing the bearing. If the roll crusher bearing is not appropriate, it can accelerate the abrasion of the equipment to a large extent, thus speeding up the replacement cycle of the bearing, which increase the failure rate and production cost of the equipment. How to choose a suitable bearing for roll crusher? During the following passage, Hongxing Machinery will explain the details for you:
1.The size of the bearing.
Firstly, determine the bearing size before choosing the roll crusher bearing, rolling bearing should be chosen according to the size of the shaft, the larger axial generally select the roller bearings, smaller shaft choose the ball bearing.
2.Self-aligning performance of the bearing.
The central line axis and the central line of the shaft base are different, and there is also some angle error, or the two rigid support spacing are bigger and the shaft is small, which is easy to force bent or tilted. Then you can choose self-aligning ball or self-aligning roller bearing with good aligning performance or the ball bearing. This kind of bearing which is slightly inclined or curved can keep the normal work of roll crusher.
3.The rotating speed of the bearing.
Roller crusher bearing has its own range of rotation speed, while the bearing itself also has a speed limit of their own, which is determined by the type and size of structure correlation. If the bearing is beyond its speed range, it will be increased, and the temperature of the bearing lubricant will be dry, the serious situation can cause bearing clamping phenomenon.
4.The load and direction of the bearing.
If the bearing in roll crusher only receives the radial load, it can choose the deep groove ball bearings, cylindrical roller bearings or needle roller bearings; when the bearing is less affected by the pure axial load, then you can choose thrust ball bearings; when subjected to pure axial load, it should choose the thrust roller bearing; when bearing in the roll crusher with radial and axial joint load, it is better to select the angular contact ball bearing or tapered roller bearing.
Prev Article: Rotary Kiln is the Leader in Environmental Protection Industry
Next Article: Intelligence Becomes the Development Trend of Cone Crusher