Intelligence Becomes the Development Trend of Cone Crusher
Cone crusher is the important crushing equipment, which is widely used in many fields with its reliable performance and unique characteristics. In the future, one crusher is looking forward to the development of intelligent to enter the high-end equipment stage. The research and development concept of Hongxing new cone crushing equipment is in line with the guidelines for the implementation of manufacturing equipment. Hongxing cone crusher can be divided into SMH series hydraulic cone crusher, SMG hydraulic cone crusher, SMS full hydraulic cone crusher, SDY spring hydraulic crusher, etc. With its unique characteristics and more intelligent, cone crusher has gradually emerged and become irreplaceable in mining industry.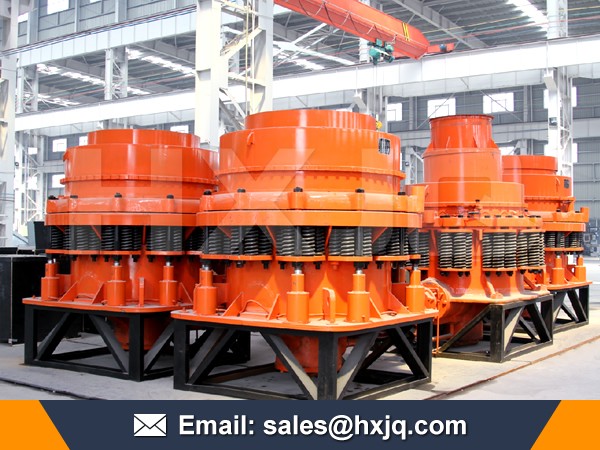 The application of cone crusher is very extensive in mining, water conservancy, electricity, chemical industry, sand making industry and many other industries. With greater operating efficiency and crushing capacity, it is helpful to improve the sustainable development of economy. Due to the special role and influence of crushing equipment has strict requirements for its reliability, durability and service life, therefore, it is likely to have intelligent development trend. More intelligent cone crusher has latest structure, beautiful appearance design, higher crushing force and longer service life, it will also have intelligent improvement in the aspects of human-computer interaction, automatic control, test execution and humanization. Hongxing Machinery will be devoted to improve the good application performance of cone crusher.
The technology characteristics of Hongxing cone crusher not only includes reliable operation, low operation cost, large crushing ratio, high efficiency, high yield, good product grain shape, but also include hydraulic system which can provide safe and effective overload protection. We used the hydraulic adjustment and the hydraulic cavity cleaning set, so the degree of automation is greatly improved. In addition, Hongxing intelligent cone crusher is also reflected in the shorter time to stop. We can use hydraulic locking, overload protection mode. When the impurities entering into the crushing chamber, the hydraulic system can release the impact gently to protect the host, and when the impurities has passed through after discharging, it will return to the original export, so as to avoid the stuffy phenomenon.
Prev Article: How to Select the Bearing of Roll Crusher?
Next Article: Hongxing Hammer Crusher Has Huge Market Potential