Sand Maker Occupies Market with Continuous Innovation
In the process of foundation engineering construction, the serious pollution to the ecological environment and the waste of resources are also commonly seen, the government has also formulated some relevant treaties of environmental protection and energy saving. The mining industry investors also have to abide by reducing pollution and waste as well as energy saving and environmental protection. Sand maker is mainly used for artificial sand making. In addition, it is suitable for the crushing and plastic of soft, hard and super hard materials, which is widely applied for all kinds of ores, cement, refractory material and bauxite clinker. Especially for carborundum, silicon carbide sintered bauxite, beautiful sand as well as other hard, super hard and abrasive resistant materials; it has higher yield and efficiency than other types of crushers.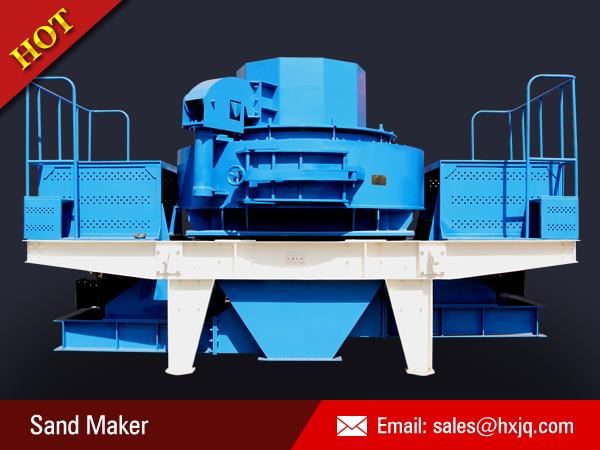 The technology of sand making machine should be constantly innovative, so as to upgrade it to the new level. To do the best of innovative technology can gain a foothold in the market and bring the customers most in need of products, so as to create the highest economic benefit for customers effectively. For the development and production of high efficiency sand making machine, we always think that there are a lot of theoretical innovation, but to technological innovation with current strength also have a certain risk, so the project experts should also be more reliable in the careful selection of pilot. Sand making equipment needs to focus on the innovation of research, and then conduct small functional innovation in the original technology to accumulate experience. Therefore, it can make the whole production line develop into a good posture, and eventually lead to a qualitative leap, ultimately realize the capacity contribution to the industry production.
As a professional large scale sand maker manufacturer in China, Hongxing Machinery has developed the effective sand making machinery by combining with the actual situation of domestic sand production, which has the leading level in domestic and international market. The sand machine series equipment produced by our company mainly include: the third generation of sand making machine, sand washer machine, compound sand making machine and so on, which are warmly welcomed by customers. Our company strives to inject fresh blood into the sand making machine technology innovation in China!
Prev Article: The Role of Sludge Dryer in Resource Saving Aspect
Next Article: Why Participate in Canton Fair Exhibition?